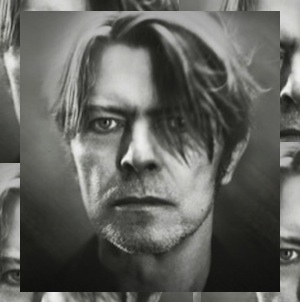 David Robert Jones has a glorious rock history.  Taking his anomie and making the best of it, David Bowie reinvented himself, and in doing so, influenced pop music more than any artist of his time.  Bowie started his first band, the Konrads, at the age of 15. Leaving for the King Bees, it wasn't long before he crossed frontiersman Jim Bowie with bowie knife for his new name. Fame wasn't immediate. His 1967 debut album David Bowie, failed to chart. Bowie broke through in 1969 with Space Oddity, released to coincide with the first moon landing. Released in 1971, Man Who Sold the World, didn't have hit singles, but is considered one of his best albums. In 1972, emerging with the androgynous alter ego Ziggy Stardust, Bowie released The Rise and Fall of Ziggy Stardust and the Spiders from Mars, with the hit single Starman. Diamond Dogs in 1974, echoes from Ziggy, about a post apocalyptic, Orwellian era.  Shifting gears, in 1975, Bowie gets a number one single with Fame from the album Young Americans. The Thin White Duke makes his debut with the album Station to Station in 1976. Then the album Low, described as "minimalist". Released in 1977, it was the first of three albums with Brian Eno. Heroes and Lodger completed the trilogy. In '78, the Isolar II World Tour hit the road, taking Bowie's abstract sound to 12 countries for 70 shows. The early 80's heard Ashes to Ashes from Scary Monsters, and in '81 with Queen for Under Pressure. Bowie peaked in commercial success with the album Let's Dance in 1983, yielding the hits Let's Dance, Modern Love, and China Girl. The hit Blue Jean was recorded as a single in 1984. The Glass Spider Tour of '87 accented the release of Never Let Me Down, featuring guitarist Peter Frampton and the single Time Will Crawl. Bowie then shifted gears to work as a band with Tin Machine, releasing two albums Tin Machine and Tin Machine II. David performed at the Freddy Mercury Tribute Concert in '92, and released Black Tie White Noise in 1993. Collaborating once again with Brian Eno, the album Outside was released in 1995, and toured with Nine Inch Nails. Earthling in '97 was a commercial success with the single I'm Afraid of Americans, complete with an Earthling Tour. 1999 heard David creating the soundtrack for the video game Omikron, a computer game where he also appeared as a character. Followed by the album Hours, demonstrating his move away from electronica. Moving on to work on the never released Toy, it wasn't until 2002 when Bowie released Heathen. Then, the Reality album and tour, where in June of 2004, Bowie complained of shoulder pain, which turned out to be a blocked coronary artery. A double live album from the Reality Tour was released in 2010. David has since made appearances at various events. In February 2006, he was awarded the Grammy Lifetime Achievement Award. In 2011, the unreleased 2001 album Toy was leaked to the internet. It was on his 69th birthday that Bowie announced his new album The Next Day, produced by longtime collaborator Tony Visconti.
More than music interested David. He studied avant-gard theater and mime. Early days as an actor influenced his music technique. 1976 saw David playing an alien from a dying planet in The Man Who Fell To Earth. Bowie played the lead role in the 1979 movie Just a Gigolo. In 1980, he played the title role in The Elephant Man on broadway. 1982 heard Putting Out Fire as the title track for Cat People. Appeared in the 1983 vampire film The Hunger. Many remember him from Jim Henson's dark fantasy Labyrinth as Jareth, the king of Goblins. Played Pontius Pilate in the 1988 The Last Temptation of Christ. Starred as Andy Warhol in Basquiat. And even a feared gunfighter in a Spaghetti Western called Gunslinger's Revenge. 2006 found Bowie portraying physicist Nicola Tesla in The Prestige. Who could miss David's voice work in the animated features Arthur and the Invisibles, and SpongeBob's Atlantis SquarePantis.
Bowie's characteristic of having two different eyes came about back in 1962 during an altercation with a friend over a girl. David was punched in the eye by friend George Underwood. Surgery could not repair the damaged depth perception and permanently dilated pupil. George went on to create artwork for some of Bowie's early albums.
Bowie resides with his wife Iman and daughter Alexandria Zahra Jones, spending time in Manhattan and London. David also has a son from his first marraige, Zowie Bowie(Duncan Jones).